About

---
Team

Women love good stories and good fashion. So why not combine both, thought Sue
Giers and the SoSUE team, by launching SoSUE in 2016. In addition to the blogzine,
we run an online store with selected products and our own SoSUE label.

SoSUE clothing is off season, meaning SoSUE fashion can be worn in Spring, Summer,
Autumn, or Winter. We are constantly adding new pieces to our collection. Whether
for a day in the office an evening out, SoSUE fashion works for any situation. What is
most important to us is that fashion and accessories fit your style. Take a look at our
SoSUE shop – we offer dresses, jeans, sweaters, cardigans, hoodies, and skirts.

There are so many topics aside from the catwalk that also play a major role for
SoSUE. Yasmin, Knuth, Sue, Vanessa, and an array of guest authors write about these
different themes on our blogzine. There are reports, interviews, tips, and essays
from life and some of those stories also provide material for new fashion ideas.
Don't just read the stories, live in them! There is a story in every SoSUE piece!

We hope you enjoy SoSUE!
Stay tuned!
Your SoSUE Team

Ps: Find us on Instagram and Facebook. And if you don't want to miss any of the
latest from SoSUE, subscribe to our newsletter.
---
Sue Giers
Sue grew up in the metropolis of Wolfsburg, the home of Volkswagen, and therefore has gasoline in her blood. Her father would have been would have rather she done a banking apprentice than hanging out in the film, fashion, and lifestyle scenes between Cannes, Paris, and New York. Fortunately, she had three children who, more or less, constantly provide the necessary grounding.
Her style is considered from eclectic to inspiring in fashion circles, and she is said have helped a "mommy" brand, Closed, regain cult status. Partly cloudy, mostly cheerful, her glass is half full rather than half empty. She would like to be the heroine in a John Irving novel. And she of course loves the whole team at SoSUE!
---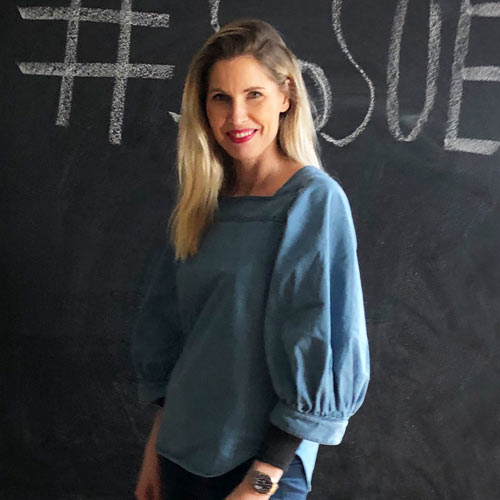 Vanessa Gieser
Vanessa, Sue's sister, takes on the management of SoSUE. It wasn't easy trying to first figure out what her passion at this time of her life is … as the mother of two young daughters and a job doesn't leave much time to think about herself.
She loves to travel, to meet exciting people, fashion, movies, and red lipstick, which quickly awakens her complexion when she hasn't slept enough.
When she worked in Milan, her passion for good fashion awakened. And although she couldn't marry an Italian, she found happily ever after with her man from the Black Forest. She knows what "Bella Figura" means, even if she can't always pull off the look in the sandbox or on the playground. From Munich, Vanessa came back to her home port of Hamburg to support SoSUE. Here she is keeping it all together. And she has proven that "Bella Figura" also works up north!
---
Knuth Kung Shing Stein
Knuth Kung Shing Stein saw the light of day in 1965, the year of the snake, between his parents' double bed and the staircase. devotes all his attention to Maren, walking around, books and Beethoven. And because the whole world is only becoming and will not become, after fifty years of writer's block, he finally decided to become a product essayist.
He is also looking for an opportunity to be adopted by the Kardashian-Jenner family, because Knuth would go well with Kourtney, Khloé, Kim or Kendall, and as the fifth K he could finally afford all the suits made by Holland & Sherry fabric that his heart desires.
Yasmin Abu Rashed
Interior design is her passion. She also indulges in her Instagram, letting her followers in on all her latest decoration ideas. You'll rarely see her without an iPhone in her hand and that is why she is our social media specialist. What else do you need to know about her? She is Sagrotan addicted, can't fall asleep without an audiobook playing (her current favorite is British bestseller Jojo Moyes), has a Chihuahua named Clooney, is a self-confessed smoker, and would love to be 18 again.
---