In our series all about cooking and baking, guest author Bettina from @besch_food introduces you to a new SoSUE seasonal recipe every month. Look forward to tasty treats from her private cookbook and get inspired. Enjoy your meal!
---
Isn't it incredible? It's actually November already! The last colorful leaves are still shining on the trees. The time change brings us shorter and shorter days. In large steps we go to the end of this so special year.
My recipe of the month November is this time a beet soup. Not only does it look adorable in this bright pink color, but it gives us lots of healthy vitamins and minerals. So just the thing to strengthen our defenses! It also replenishes our iron and folic acid stores. A real all-rounder. And the most important thing...it tastes delicious and is very easy to cook!
So go to the stove...
Ingredients for 2 people
1 medium onion
200 g beet peeled (raw)
2 kl parsnips (approx. 60 g peeled)
1 tbsp butter
1-2 cloves of garlic
1/2 tsp cumin ground
1 tsp ginger ground
350 ml vegetable broth
salt, pepper
as topping creme fraiche or yogurt, fresh herbs and black cumin seeds
Preparation
Roughly dice onion and garlic and sauté in butter.
Dice the beet (be sure to wear disposable gloves, as it stains very strongly!) and add it with the chopped parsnip. Season with cumin and ginger and continue to sauté to intensify the flavor of the spices. Add vegetable stock and simmer gently for about 25 minutes. The beet must be really soft before you can puree it!Season with salt and pepper. If you like it spicier, use a little more ginger.
There are no limits to what you can do with the garnish. I sautéed cauliflower florets and topped the soup with black cumin seeds and chervil. I can imagine dill or cilantro being delicious as well! A dollop of yogurt or creme fraiche adds a freshness kick. If you're vegan, you can use vegetable cream.
And now have fun with the re-cooking!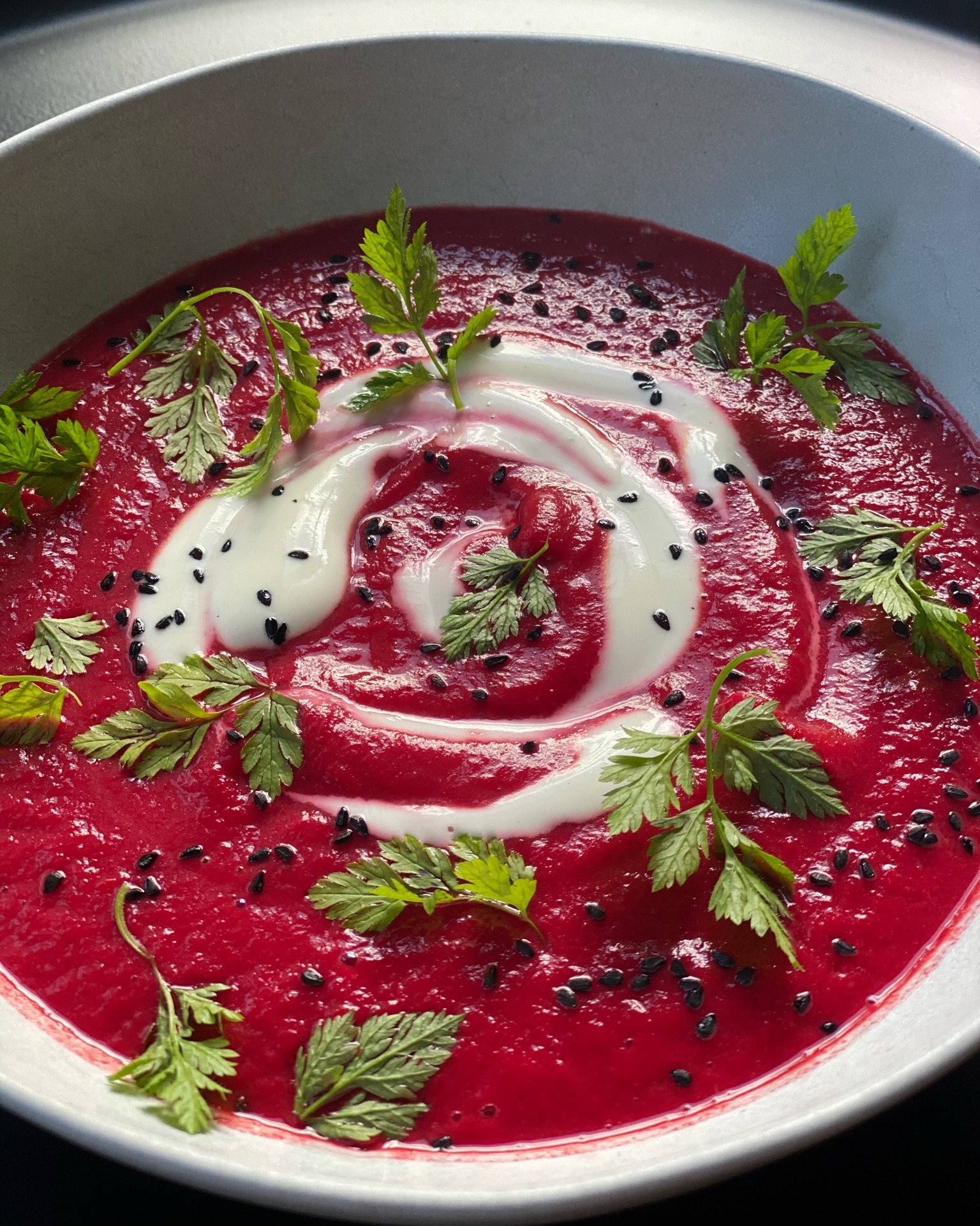 ---
About the author:
Let me introduce myself.
My name is Bettina and I have been cooking with passion ever since I can remember. Originally I studied architecture and worked for many years as an architectural photographer. I am 55, have raised 4 children and live in Munich with my husband, dog and youngest child. I am also a grandma.
Last year I completed a one-year training as a nutritionist and as a mindfulness coach. Healthy food and a happy soul are the basis for a healthy life, so I try to translate all my knowledge into healthy and delicious dishes.
I have been organizing cooking trips to Marrakech for a few years now. Unfortunately, Corona is throwing a wrench in the works at the moment.
From now on I may suggest you a recipe every month. Mainly vegetarian and always seasonal. It should be quick and delicious. I promise!
Feel free to check out Bettina on Instagram: @besch_food