---
A method thousands of years old is back in vogue. It was about time, because fermented food is so tasty and healthy!
Fermentation is one of the oldest methods of preserving food. It has been used in almost all countries of the world.

During fermentation, carbohydrates and sugars are converted, leaving behind a product that is even healthier than in its origin. It is rich in digestive enzymes, good bacteria, vitamins and immediately available nutrients. Optimal for strengthening our immune system. And the taste is great. Even my child loves all kinds of fermented vegetables. It is also fantastic for ravenous hunger attacks. My favourite snacks are fermented carrots (you can find the recipe here) or cucumber sticks. These cucumbers will make you addicted!
Fermented Cucumber Sticks
Ingredients:
Garden Cucumbers
2 cloves of garlic
6 stems dill
1 tsp. mustard seed
1 teaspoon coriander seeds
1 tsp black peppercorns
1 tablespoon salt (heaped, 20 g) to 500 ml filtered water
(instead of filtered water you can also boil water and let it cool down)
You need:
1 preserving jar in which the cucumbers fit lengthwise
Optionally, a fermentation attachment (where the gases can escape)
Let's get started:
Put boiling water on the jar and the lid.
Wash the cucumbers and dill with cold water.
Peel and crush the garlic.
Cut off the ends of the cucumber and then quarter the cucumber lengthwise.
Put the garlic into the rinsed glass.
Layer the cucumbers upright and as tight as possible.
Place the dill stalks in between.
Sprinkle the spices into the jar.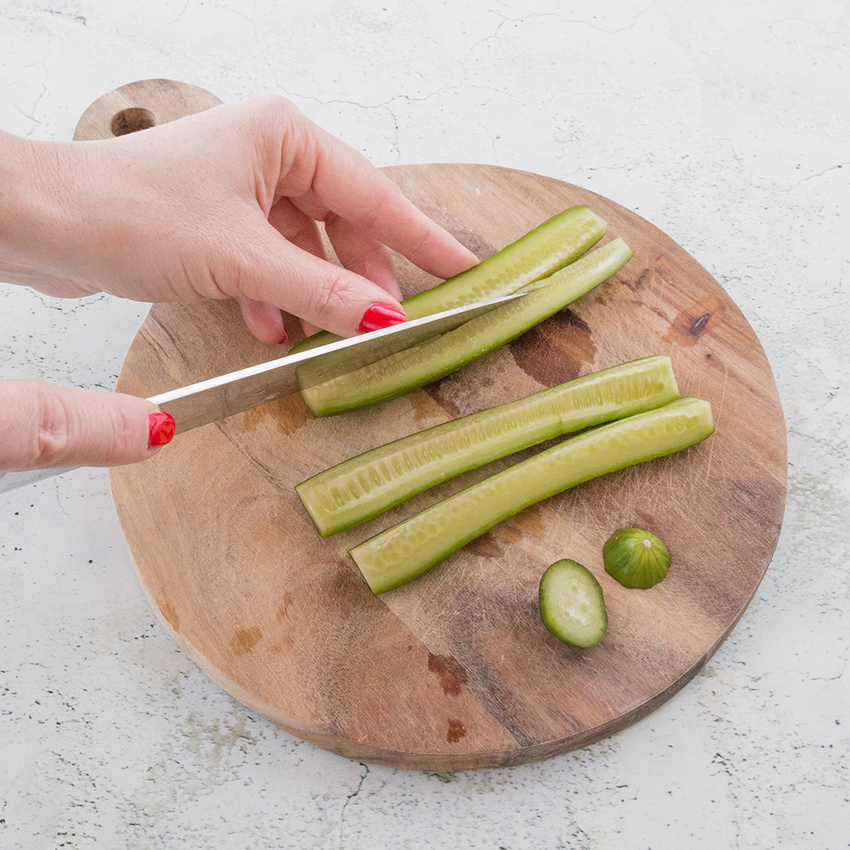 Dissolve salt in water in a separate container and pour the brine over the cucumbers.
The vegetables must be covered (so that they do not get moldy)
Fill up the glass, leaving about 2 cm to the top so that the glass does not come under too much pressure
It is best not to close the glasses too tightly to allow air to escape, or even better, use a fermentor attachment.
Now let the cucumbers ferment at room temperature for at least a week.
The longer the process takes, the more aromatic they become.
Once opened, the cucumbers will keep in the refrigerator for up to 6 weeks.
Tip: If you want to be on the safe side to make sure that the lids do not bend during fermentation, or if something even goes up in the air when used incorrectly, the best thing to do, like me, is to get a fermentation kit. You can get this for example from the Liebligsglas shop.
And another tip: Do not pour away the cucumber water. It also contains healthy probiotics and tastes delicious in salad dressings or soups.
---
About the author:
There is something that connects us all: Food. It can mean so much: Conviviality, pleasure, conversation, home, homeland, distance, romance, etc. Everyone associates something with a certain dish, e.g. a trip, a person, or a childhood memory, etc.
Food also determines our health and appearance. You are what you eat. That's why as a mother I pay attention to a healthy and balanced diet. Especially today it is not always easy - despite the diversity - to eat properly, because we all lack time. That's why I (myself working) always try to create recipes that are healthy, simple, tasty and fast. On weekends or for guests it can be a bit more expensive. And of course sweet sins are also on my menu.
I am Tanja, over 40, mother of a boy, married and born in Munich.
Look with pleasure times on my Blog www.meinideenreich.blogpost.com by or also with Instagram @meinideenreich