No matter at what time of the day you stroll around Mitte, you will barely ever see a woman walking the busted streets of town in anything else but sneakers.
If you happen to have seen just a single one in extremely catchy and extraordinary expensive pumps, then it has most probably been the fashion heroine of our today's story.
Livia Lee – walk of a leopard, build of a deer, style of a goddess – the always-in-high-heels fashion epiphany of the city, who just recently traded Chelsea in New York for Mitte in Berlin, a view over the Empire State building for one to the Alexanderplatz, Ralph Lauren for Lala Berlin and life-long acquaintances back home for new friends over here.
Not only does she have an incredible career path, having worked for some of fashion's most iconic visionaries and brands (The Gap, Diesel, Lacoste, Vince, Ralph Lauren), but also rules over a totally enviable wardrobe, reflecting her eclectic personality and bright character.
As this column of SoSue is dedicated to outstanding women with outstanding taste, I recently met up with one definitely qualifying for this section to gladly give you a glimpse into her colorful wardrobe, house and life and present you another New Yorker's take on living in Berlin, the signature style of the city and what makes living here so special.
Join in for some honest confessions of a true fashion victim and meet Livia Lee:
After all those years at fashion's major players, where do we find you now at?
I am currently the Brand Director and General Manager at Lala Berlin. Leyla Piedayesh (owner/founder) and i have circled each other for a few years through dear mutual friends and a freelance consulting request from her has turned into a full time opportunity to run the business and operations for this very successful German brand.
What has your career path looked like so far?
All of my career opportunities have been leading me to this current role - from starting as a sales person and then Senior Buyer at the Gap in New York and San Francisco to Buying Director at Ralph Lauren to Global Brand Manager at Diesel Italy to Merchandising Executive at Lacoste and Vince.
Along the way I had the opportunity to work with some amazing talents. Jose Luis Duran, the former Global CEO at Lacoste has been one of the key inspirations in my career. He showed me how a leader can be both firm and human at the same time. How to inspire and motivate while still giving developmental feedback. From Ralph Lauren at RL to Renzo Rosso at Diesel I learned what it takes to build a distinctive brand that is always true its customer. And last but not least Mickey Drexler and Lisa Salamone, formerly of the Gap on what it means to be a merchant. To anticipate the customers' needs and develop a strong retail experience.
How did you end up working in Fashion and what does still fascinate or annoy you about it?
I never had a plan of what I wanted to do when I grew up though my connection to my seamstress grandmother may have been the spark that led to the last 25 years in fashion. I get a boost and feel great about my role in fashion when I see someone on the street wearing an item from the brand I work for and for which I may have played a part in bringing to the market. The most demotivating part of fashion is the waste we create in bringing products to the market. It affects me to the extent that I shop even more discerningly; shop less and am attracted to brands that consciously create with Mother Earth in mind. Brands like Atelier & Repairs (started by a former Ralph Lauren colleague - Maurizio Donadi) or The Reformation out of Los Angeles.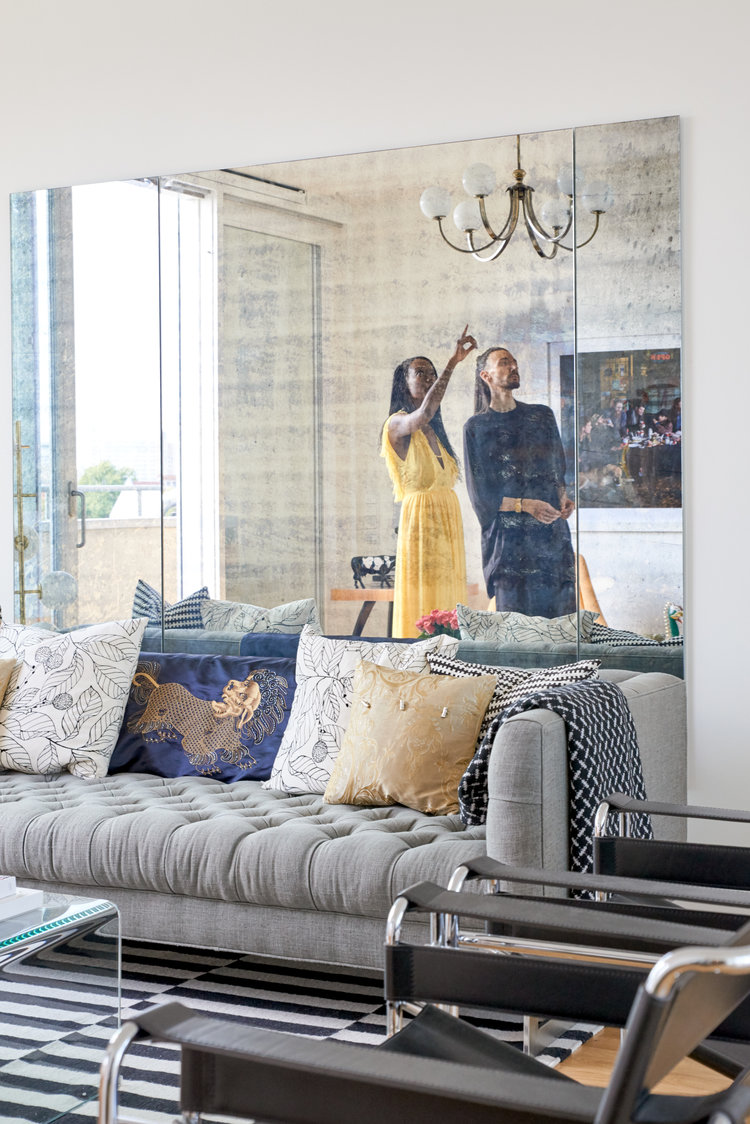 Let me jump straight to your incredibly rich and colorful dressing room.... Do you remember you first ever designer purchase?
The first purchase I can remember is years ago walking thru West Berlin and going to the Sonia Rykiel store and purchasing a beautiful patent leather handbag. It was spur of the moment, unnecessary and utterly satisfying.
What did you buy from your first salary and are you still emotionally bond to it?
I've always shopped so I don't remember my first salary purchase but the item I had the most emotional connection to was a white mesh tennis dress that I made myself - design and construction all my own when I was 15.
Your favorite designer piece in your wardrobe?
Shoes - my Gucci studded sandals. They are pieces of art.
Clothing - my YSL Tuxedo Jumpsuit.
Bag - my cowhide Celine tote.
Jewelry - David Yurman - Albion earrings and ring.
Most money you spend on a piece
My purchases were more modest in my late teenage years and The Gap probably formed the bulk of my wardrobe. Later on I considered it normal to purchase a pair of shoes for $300 dollars or more and those said Gucci studded sandals were $1500. I walked into The Webster (Collins Avenue, Miami) and they literally spoke to me.
How would you describe your personal style?
I like modern classic clothing that can stand the test of time but embellished with a distinctive pair of shoes or jewelry. Its all about the shoes. Similarly, i have a penchant for statement rings.
High heels or sneakers?
My sneakers (Nike fly knit) are for running with the exception of a well worn pair to Stan Smiths. Heels, at any height, elevates my mood and my confidence. I stand taller and feel more confident. The Berlin streets are not that friendly to high heels but I do it anyway.
As someone who has worked on a lot of these – what is your take on all current Designer Cooperations within the industry?
I believe fashion should be price accessible to everyone. The collaborations that pair luxury brands with high street retailers gives this accessibility and it is good for the end consumer and the fashion business. We see that collaborations today span all aspects of the fashion industry from apparel to shoes to leather goods to interior design. It brings new ideas to the market and this can only be a good thing.

What piece have you been saving on for a long time?
I'm at a moment in my life where my home has become the sanctuary and I most want to express my fashion desires through art, furniture and decor. Since moving to Berlin my apparel purchases have become fewer and my furniture, decor and art objects have grown exponentially. I moved to Berlin one and a half years ago and fate allowed me the opportunity to meet and befriend Chris Glass, the owner and founder of APTM Berlin. His keen eye for interesting furniture and decor pieces has made him my go to source for many pieces in my home.
Another key connection in Berlin has been the team at Enter Art Foundation (specifically Till Wald). Through this organization I have met many emerging and established artists who now grace my home. One of my favorite pieces is a sugar/resin sculpture (Laura) from Joseph Marr. But there are also unique paintings from Jan Zeigler, Denesh Ghrzhy and Ornella Orlandi.
That being said, my entire lifeI have been searching for the perfect white tee shirt - it is a constant search that never seems to end. I also think that a pair of Fendi's yellow crocodile-embossed ankle boots would be a lovely addition to my wardrobe.
I know that's a tough one, but who are your favorite designers?
Isabel Marant, Celine, Acne, Cedric Charlier, Jacquemus, Fendi
Any particular up and coming brands you follow closely?
Alexandre Birman, Del Pozo, Maticevski, Lala Berlin, Johanna Ortiz, Marco de Vincenzo, Andrea Pompilio, Cushnie
Who is your style icon?
I don't have one style icon but there are women through the years who I find incredibly inspirational - Grace Jones, Ali McGraw, Diana Ross, Debbie Harry and Josephine Baker. Today, it is enough for me to walk down the street or look at Instagram to find women of all walks of life who's style prove that they are incredibly comfortable with who they are and know what works for their bodies.
If your style could be a song, what would it be?
I Feel Good - James Brown
What do you wear if you're having a bad day?
Red lipstick. It never fails to put me in the right mood.
After New York, LA, Miami and Milan, how did you find yourself in Berlin?
Oh boy... where to start. My love affair with Berlin started almost 10 years before. I'd been coming here off and on for a few days to visit friends and casually enjoy the city. Berlin was my savior when I lived in Breganze, Italy during my time at Diesel (a very, very small town) and needed a bit of city energy. It never entered my mind to live here. Why would I leave New York? Eventually, fate, life experience and time have answered that question for me.
After taking a year off from what had been more than 20 years of a continuous pace of work, work, work,I was given a wonderful opportunity to work for an iconic brand such as Lala Berlin. Though the decision to move to Berlin I credit to my friend Patci Weil. While sitting in the garden of her vegan restaurant, Wildekuche last summer, she simply posed the question - 'Why not spend the summer in Berlin? Summer is magical here'. I thought, why not? This prompted me to think, why not stay longer? I have always felt incredibly comfortable in this city and over the years had developed some close friendships and a wide community here. Now I had a legitimate opportunity to stay here. So in the blink of an eye, what I thought would be a brief consulting gig has turned into a magical 1 1/2 years. The saying goes that 'it takes a village'. I called friends in NY and Miami to help organize the sale and rental of my homes and then enlisted my sister to supervise movers to transport everything from Miami to Berlin. Luckily I found a beautiful apartment in Mitte than can accommodate 100+ pairs of shoes.
You quit on New York for Berlin - why Berlin?
As much as I love New York, I think my time there had come to an end. After more than 20 years in the city and squeezing out almost everything it has to offer, I unconsciously was looking for a different pace and more community. For my experience, Berliners have time for each other. It rarely takes more than a New York minute for friends in Berlin to commit to plans, where in New York it can take weeks. While I still miss the energy of the New York City streets and my favorite restaurants (Reynards at The Wythe Hotel, Miss Lily's on East Houston, Soho House Ludlow, Cafe Mogador in Williamsburg), I also love the proximity and accessibility of the countryside just 30 minutes outside of Berlin. Not to mention the countless parks in within the city limits. Tiergarten is one of my favorite places in Berlin as is the open air parties at Jackie O's (Köpenicker Chaussee)
How would you describe the signature Berlin style and do you think living in here influenced also your personal looks?
Berliners have a unique style that I would describe as monochromatic street-style cool. While I love the look, the preponderance of black and navy brings out my rebel spirit and makes me want to wear color. Or maybe I'm at an age where I no longer care to follow the norm. Taking that Berlin cool and adding a bit of color makes me feel incredibly happy (especially when the weather is grey and rainy).
What is your favorite part about living in Berlin?
My friends. They are as close as family and along with my boyfriend count at the top of the list of reasons to stay in Berlin. They fill my house every time I throw a dinner party and give such love and warmth. Their energy and the community I find in the city also give enjoyment to the abundance of open air activities in the summer.
What would you recommend someone do in Berlin if it's their first time visiting?
Since moving to Berlin, my American friends seem to want to visit in droves and so I've had to do a bit of first time in Berlin agenda planning in recent months. If I could give my version of the New York Times '36 hours in Berlin', I would recommend Friday night drinks and '80s music dancing at Muschi Obermaier on Torstrasse (ask for Max...he pours a stiff drink). Saturday breakfast at East & Eden in Mitte or Betty and Caty in Prenzlauer Berg then a visit to Museum Island and galleries in Mitte. Maybe late lunch on the rooftop of Soho House. A disco nap would be necessary as the rose may be flowing at lunch. If you skip the nap, go to Jackie O's for the sunset and dancing. Late dinner at Grill Royal (good for people watching) or for a different atmosphere go to Katerschmaus and then a bit of dancing at Kater Blau. Sunday is for sleeping late and then Berghain.
How long have you been in your apartment?
One year exactly and i still keep on falling in love the abundance of light and the 3 terraces.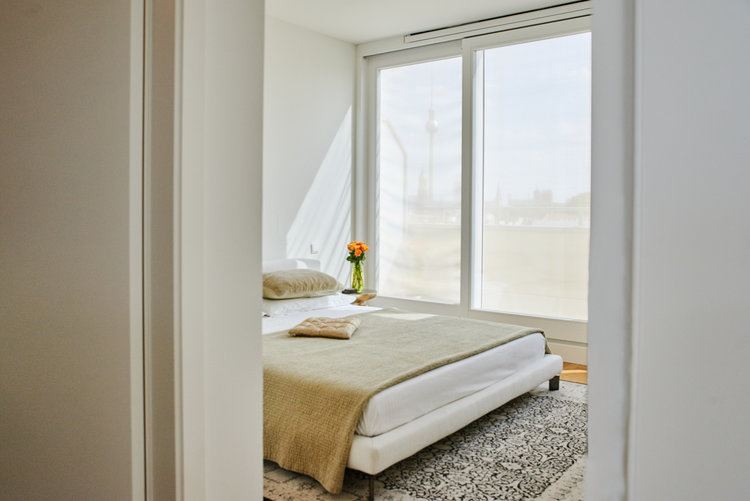 What is your favorite thing about the location?
I love the central location of my apartment (Mitte). It allows me to walk to and from work everyday. A blessing. I also have a spectacular view. From the south side of the apartment I have a view of Museum Island, the Synagogue, The Alex Tower, the peaks of Potsdamer Platz and even a bit of the Reichstag.
Do you have a favorite piece of decor?
Hard to choose any one piece but I would say that the decor of the hallway is one of my favorite spaces as it is a representation of my collaboration with Chris Glass. The wall is painted in Farrow & Ball Studio green and is adorned with a serious of nudes in different mediums. My own nude portrait was done by the photographer Dragana Gavrilovic here in Berlin. The coup de gras is 2 velvet fringed stools from Lorrenza Bozzoli and the Nipple Vase from Jonathan Adler that was a housewarming gift from Chris.
Sincere thanks to gorgeous Livia, who let us into her apartment, her wardrobe and her heart and to the extremely talented and dedicated photographer Mirja Zentgraf, who captured the magic of the place and outfits.
---
Über den Autor:
Julian Daynov ist ein wahres Fashion Victim, ein Serien-Netzwerker, eine ganze Welt für sich.
Nachdem Julian Daynov die letzten sieben Jahre als zertifizierter Trendscout, Fashion Analyst und Fashion Director die Bereiche Retail Buying und Portfolio Management für Kunden wie Barneys, Harrods, TJX Companies und Saks Fifth Avenue betreut hat, zog es ihn nach Berlin.
Seine vielseitigen Kenntnisse über Märkte, Marken und Mode machen ihn zu einem gefragten Einzelhandelsexperten. Zur Zeit unterstützt er Boutiquen und Kaufhäuser dabei, ihren Produktmix zu bereichern, Eigenmarken zu entwickeln und Strategien für eine bessere Shopping-Experience zu definieren.
Als guter Freund und treuer Fan von SoSUE schreibt er hin und wieder als Gast-Autor für uns und kommentiert alles rund um die coolen Dinge des Lebens.