Seitdem Sue bei der letzten Fashion Week in Berlin neben Designern und Brands Ihr ganz persönliches Highlight entdeckt und für SoSue interviewt hat, sind Julians (Ein globaler Fashioninsider über die Deutsche Modeindustrie) Kommentare über die Deutsche Mode Teil unserer Fashion Week Coverage geworden.
Nun haben wir Ihn erneut gebeten mit uns über die vergangene Woche in Berlin zu sprechen, einige Statements zu den Spring Summer 18 Entwürfen der Designer abzugeben und über weitere Export-Schlager neben unseren Mercedes, Audi und BMW zu prophezeien.
Da Julians Sprache besonders expressiv ist, versuchen wir es nicht mal den Text ins Deutsche zu übersetzen und posten ihn für Euch in seiner Originalversion.
Viel Spaß beim Lesen.
---
Berliner Mode trifft die große Welt: Ein internationaler Mode-Profi über die Deutsche Mode für SS 18
Paris is always hot in Summer and trust me, even hotter during Couture Fashion Week, when all well-known fashion power houses present their extraordinary creations for the upper 10.000 among us, so hell was i happy to cool things down and freshen up with a gust of Berlin fashion breeze.
My Berlin days kicked off with the probably coolest crowd Germany is able to get together on one spot: PR powerhouse NICOLE WEBER was hosting a divine dinner party at the city's most exclusive place during Fashion Week - restaurant Borchardt - where I happened to meet nearly every person one should know when living in Germany. From high-ranked politicians, through movie stars and pop idols, up to the coolest magazine editors the country has to offer, everybody comes when Nicole is calling for night out. What an incredible guest list, i was probably the only one with no-celebrity-status, but surely with a celebrity-status outfit though - LoL.
Right in-line with the fashion fairs in town, hosted by the Premium Group and their social-lights Anita Tillmann and Jörg Arntz, let me now come to yet another of my highlights:
Upon the invitation of the Retail Relation Manager of The Berliner Mode Salon Tatjana Sprick and their PR Director Pepe Burkhardt I've had the chance to gain some insights over the upcoming design crowd of Berlin and touch base with some exquisite "made-in-Germany-designs" over the last couple of seasons. And damn it did hit me hard again this time! I keep on falling in love over and over again and by now i am bloody sure that the works of all these incredibly talented guys are not less valuable to export internationally than the cars coming out of this country.
I am trying to think back and I guess I don't have another example for an initiative that promotes and supports local design talent in the shape of the one Berliner Mode Salon does. Each and every season they cherry-pick the most exciting names in German design and make sure to give them the right platform to present their gorgeousness and vision for the upcoming season, to meet press, buyers and get the honest feedback of the world outside of their ateliers. This season did not make an exception - at a glorious venue in the very heart of the historic site of Berlin, i found myself in fashion-wonderland, surrounded by designs which made me Woow about a hundred times.
Gosh, where do I start? Clearly i could give you the names of ALL participants the style curators (headed by remarkable Christiane Arp, Editor-in-Chief of Vogue Germany and Marcus Kurz, owning one of Germany's top creative agencies Nowadays) of the Berliner Mode Salon, since i LOVED each and everyone of them, but here a probably failed try to sum up just my Top 10.
Usually, i am very good with directions, but I honestly lost orientation right by entering the building - no idea did I have where to start!
My eyes were dazed by too much beauty: on the lest side, i had Dorothee Schumacher's area of refined luxury in the nicest fabrics and shapes on the planet and on the right Rianna and Nina's eye-candy box of colors for my tired eyes: authentic-cut kimonos, made of vintage / recycled fabrics the two ladies scout in far countries and bring to life in their atelier in Berlin Mitte. Meanwhile truly iconic with their creations, Rianna and Nina's pieces adorn the covers of several magazines and the windows of more and more boutiques worldwide.
Although I am very, very much into Womenswear, somehow the pragmatic side of me came across as I got closer to my three super favorite Berlin boys, designing also for Men: Hien Le, William Fan and Vladimir Karaleev.
Hien Le surprised me with an ode to the play of body and fabrics: lots of transparency, plissé, airy silhouettes in silk, light linen and cotton and neutral colors to destress your eyes: beige, blues and here and there and accent in flashy orange to brighten up things. So wearable, so easy, so catchy and cool, his styles can right away make it to the closet of any cosmopolitan citizen, caring not just about fashion, but also about quality and pleasant feel.
William Fan, another one of my Berlin top-picks i follow passionately, brought us all back to the late 90's and the years of my most defining style choices - the era of MTV, me watching The Simpsons and cheering after every bold sets my personal style icon The Nanny (Fran Fine) was making an appearance in. William's SS 18 collection playfully revives an euphoria of the past every current fashionista can connect to: the late 90's / early 2000's and their eclectic clash of sportswear, hip-hop styles, metropolitan and sub-cultural influences, techno and extravagant-comfort. In love i fell immediately with the tees, incorporating the designer's name in the logotypes of pop-culture icons of our times as MTV or The Simpson and those slip-on-shoes in velvet: to die for!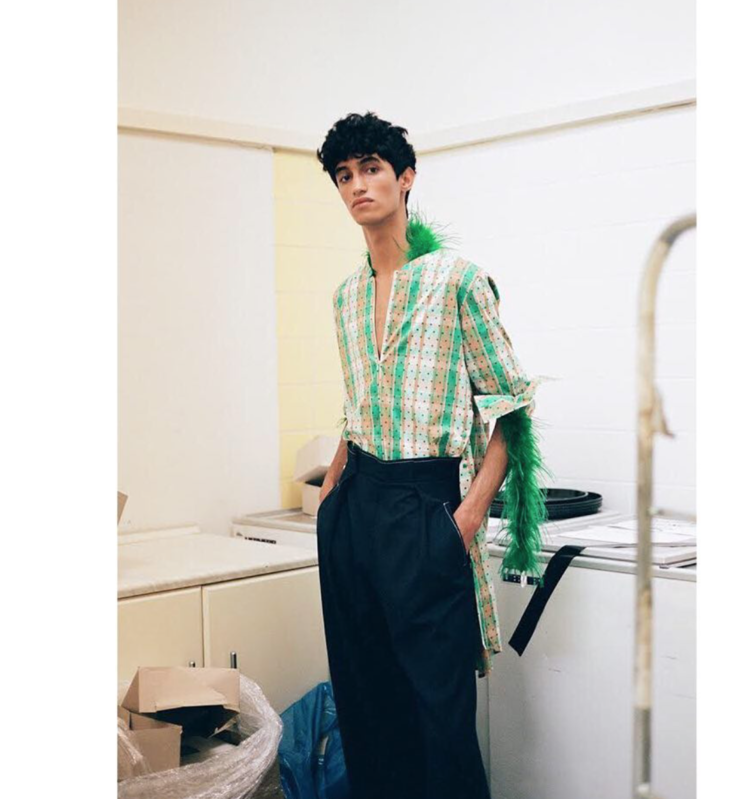 Coming to Vladimir Karaleev, i can barely ever hold my excitement. Getting closer to his works has to me something of a museum visit, where all the sculptures are brought to life in asymmetric, deconstructed and re-worked shells of simple gorgeousness only an evil genius can create. I adore his fondness to make various single pieces of clothing connect into one totally new and harmonic piece: a shirt-top-shape with a bottom of a skirt or apron; a lingerie-like top, developing into a dress and hugged in a sleeve of a shirt he uses as belt. His collections always give me a lot of fruit for thought and tease my imagination, make me phantasize, analyze and actively enjoy.
As i spend nearly a full day at the Berliner Mode Salon this time, i could touch and feel a lot of the creations of the Germany's upcoming design gods.
One of them ultimately is Dawid Tomaszevski - to me, the true representative of a proper couturier. This guy should so be dressing stars for the red carpets of this world in his hand-embellished robes and silk pants serving looks to take your breath away just be entering the room.
Another huge red-carpet potential i discovered in gorgeously herself looking designer Nobi Talai - if posh and classy would have a visual definition, this would it be. Silk, organza, plissé, layers of love brought to you in a lightness only a tender and romantic creature can create.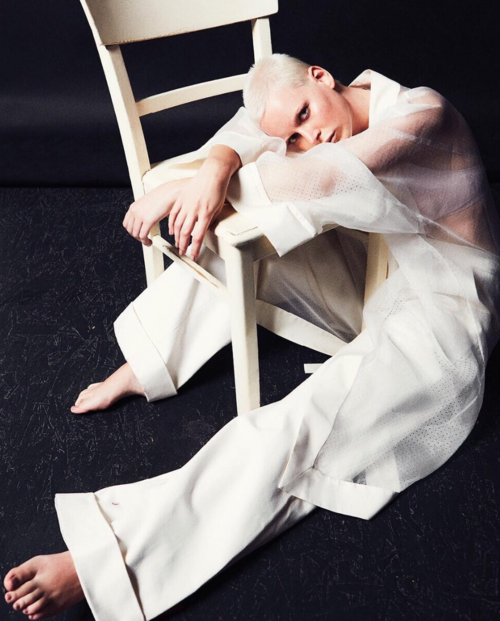 What i really registered at this issue of the Berliner Mode Salon was the fact that there were more and more accessories on display and hell did i love that.
Gabriele Frantzen totally got me - not only with her designs being beyond cool, but also with her personality, being beyond fantastic.
Her bracelets, necklaces and cross-body-bags are just about to make it to my list of things i always have with me on travels. Beautiful, catchy, practical and ultimately cooling up every outfit. Now please take a look at all fashionistas rocking her stuff already - if these guys already like them, the rest will just soon follow.
If i only could, i would spend not just my Sundays but any given day of the week in the nightshirts magical Anna Heinrichs designs under the label Horror Vacui. Voluminous, light, colorful robes in soft colors and fabrics to hug your skin and make you dream not only while you are asleep. This girl knows how to pull looks together and reinterpret the classic code of a rather boring dressing element and turn it into a statement piece fully loaded with chick, charm and coolness.

If ever would i move abroad again, i am definitely heading to Lala Land. Not the one Hollywood painted us about a year ago, but the one this remarkable, explosive, super-woman Leyla Piedayesh takes us into with her creations for her brand LALA BERLIN. To me, she has already been a symbol of the reborn German fashion new wave already with her first collections, but i am breathless to see where she has taken her label in the meantime and how much additional phrase and determination she embodies season by season. Her pieces spray effortless chick and breeze freedom, poise and a whole load of modern feminity with glam and power load. Leyla, what an incredible job with this SS 18 collection you are doing again - robes, trenches, cuddly knits, shiny silks, wide silhouettes, sparkle - simply all i need to be happy.

Another panel at the group exhibition i really loved was the one featuring bags:
PB 0110 is one of my long-time-favorites, as i have been following the designs and career of Philipp Bree for some seasons already. I admire his very own way of turning simple shapes into icons and always stays true to using the finest of leather and linen to pepper things up to perfection. By now, i have seen his pieces all around the globe, be it it Sydney, New York, Hong Kong, London or Paris. Great job there!

Stiebich & Rieth are one of my further spotted objects of desire with huge potential to conquer a lot of hearts. Both designers work on sleek shapes and a very contemporary look and all of that in full handcraft. What a fabulous way to get back into the essence of working with leather and thereby create every-day-masterpieces to round up our outfits. Respect, guys!

On my walk around the rooms, i made a pretty long stop-over at the stand of young and gorgeous designer Julia Zimmermann - her jewelry totally broke my schedule and made my eyes peer all the time. I think i tried over 20 of her pieces and was secretly praying that one of her rings would be magical and if i turned it around, it would make me disappear with all the plunder i had made on my hands :)
Stepping out in the garden of a castle alway makes you woow anew - it did not make an exception in this case either.
Spaciously spread in the yard, the SS 18 installation of ODEEH gave me all i needed to round up my over-excitement after nearly a day spent among Germany's most promising names in fashion. Design duo Otto Drögsler and Jörg Ehrlich once again proved me the beauty of their pieces is to be discovered each and every day once more. My eyes dived deep into an ocean of details on their kimonos and balloon-skirts and first discovered abstract paisley-shapes, only opening for a flood of sea-life elements glazing the garments. Their decorative, expressive and very scenographic signature is this time paired with plain and bold stripes, rooting in classic menswear tailoring and workwear and hereby create a soft and pleasant visual clash of prints and structures. If anyone is afraid of colors, these guys surely aren't - gold, silver, soft alongside grass-green, electric blues over delicate flower prints and plenty of lace, softness in the base clothes and gentle refinement in their overcoats and kimonos.
Light, feminine and truly modern, this brand has made its way into my heart, my wardrobe and personal style pick, so i am more then just excited to see what is next for them and where this SS 18 will take them.
Generally speaking, I once again had my fashion hunger sated and boy was this meal excellent - it had me basically all i needed: from simple nutritions to rich and substantial fare.
The past days showed me that contemporary German fashion is so far away of all we basically connected it to - things move on, people move on and so does fashion.
I had one thought in the last days as I was walking around so much of great stuff designed in Germany - i am barely watching TV at all, but always when i switch to a German channel, i see these terribly dressed people presenting news, hosting quiz shows or judging casting shows and think "If i would be a celebrity stylist, i would so try to work mostly with local fashion designers - not only to support my local dealer, but because often the best findings are just around the corner, you just need to have the eyes to see them."
SOMETHING BELOW THE LINE:
I was impressed to see the return of Strenesse back in the spotlight during The Berliner Mode Salon. It was pretty spectacular in a way and made a promising entry back on the fashion playground; happy and excited to see more of that in the upcoming seasons.
Only due to my busy schedule and everybody else NOT sticking to time slots for meetings over fashion week, i missed to visit the presentation of Frauke Gembalies, whose work i adore, by the way, but my partner in fashion-crime Sue made it, so stay tuned for her comments on Frauke's SS 18 designs.
For those of you who were counting: you have obviously found out that i can not count to 10, when it comes to fashion and design - i just could not stop picking, so i did not at all keep my promise to lovely Sue to pick just 10 names i liked... Next time please ask me to pick 5, so i will end up with 10 - haha.
Über den Autor:
Julian Daynov ist ein wahres Fashion Victim, ein Serien-Netzwerker, eine ganze Welt für sich.
Er arbeitet als Trend Scout, Einkaufs-Consultant und Kommunikationsstratege für Marken aus den Bereichen Fashion, Art und Lifestyle und reist ununterbrochen um die Welt auf der Suche nach spannenden neuen Brands für die Sortimente seiner Retail-Kunden. Zur Zeit arbeitet er für den US Kaufhaus-Giganten Saks Fifth Avenue und der Einführung seines Premium Off-Price Ablegers Saks Off 5th in Deutschland.
Als guter Freund und treuer Fan von So-Sue schreibt er hin und wieder als Gast-Autor für uns und kommentiert alles rund um die coolen Dinge des Lebens.