In our series, which revolves around cooking and baking, we present a new SoSUE season recipe every month. This time with a little novelty! We are very happy to introduce you to the new SoSUE guest author Tanja from mein Ideenreich. From now on she will inspire you monthly with delicacies from her private cookbook and we will start with a wonderful recipe for a delicious rhubarb-based cake. Enjoy your meal!
---
Pointed Cabbage

The pointed cabbage is the earliest available cabbage variety every year. It is available as an import from France as early as May. It is now in season for us. It is less bloating than white cabbage and a good choice especially for the figure conscious. It contains beta-carotene, potassium and one portion covers the daily requirement of vitamins B1, B2 and vitamin C.
Ingredients for cabbage salad
1 pointed cabbage
7-9 tbsp white wine vinegar
1 teaspoon salt
1 onion
3 tablespoons rapeseed or sunflower oil
1 chicken breast (2 fillet pieces)
2 teaspoons fried chicken spice
3 tablespoons rapeseed or sunflower oil
2 large potatoes
1 tsp French fries salt
Preparation: Cabbage salad
Remove the outer leaves from the pointed cabbage. Wash and dry the cabbage. Then cut into quarters on a cutting board with a large knife. Cut out the hard stalk. Cut the pointed cabbage quarters into fine strips and place in a large bowl. Sprinkle with 3-4 tbsp. vinegar and 1 tsp. salt. Now knead the cabbage vigorously with both hands for about 10 minutes until a milky juice is formed. Peel the onion, dice into small cubes and place in a separate bowl. Mix with 4-5 tablespoons vinegar and the oil. Then pour over the cabbage and mix well. Wait at least 2 hours before serving.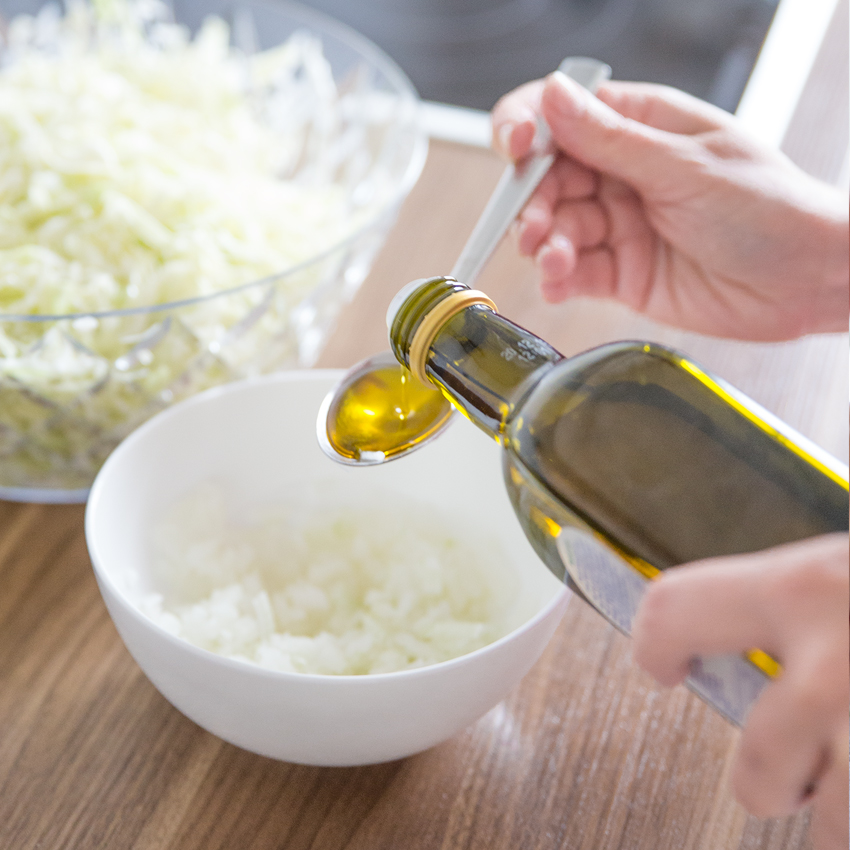 Preparation:Chicken and Chips
Wash and dry the potatoes and cut them into 2mm thin slices. Place them on a baking tray lined with baking paper. Brush on 1 tablespoon of oil with a brush and sprinkle with French fries salt. Bake the potato slices in a preheated oven at top and bottom heat for 20 minutes.
In the meantime, divide the chicken breast, pour 1 tablespoon of oil over it and rub with the fried chicken spice. Heat 1 tablespoon of oil in a pan on medium-high-heat and add the chicken fillets on the heated fat. The pores close and the juice remains in the meat. Turn the stove down to level 1 and cook the chicken breast with a lid for 5 minutes. Then turn the heat back to the highest setting, turn the fillet and fry the other side until crispy.
With this method, the chicken is cooked through on the inside, still juicy and crispy on the outside.
---
About the author:
There is something that connects us all: Food. It can mean so much: Conviviality, pleasure, conversation, home, homeland, distance, romance, etc. Everyone associates something with a certain dish, e.g. a trip, a person, or a childhood memory, etc.
Food also determines our health and appearance. You are what you eat. That's why as a mother I pay attention to a healthy and balanced diet. Especially today it is not always easy - despite the diversity - to eat properly, because we all lack time. That's why I (myself working) always try to create recipes that are healthy, simple, tasty and fast. On weekends or for guests it can be a bit more expensive. And of course sweet sins are also on my menu.
I am Tanja, Over40, mother of a boy, married and born in Munich.
Look with pleasure times on my Blog www.meinideenreich.blogpost.com by or also with Instagram @meinideenreich