What we wear (or especially Sue wears) we tell you every day on social channels. But what ends up in our shopping cart when it's not just fashion? In our new category "Shopping List" we tell you:
---
The crafty things a man must be able to do while living with a woman include: Fitting ceiling lights, changing tires, assembling furniture (at least, Billy-shelf level), drilling holes, loosening and tightening screws of all kinds, replacing fuses, and unclogging pipes in the shower and sink. The last point men should really be able to master. Therefore, my advice to all men take seriously the complaint of the beloved. With the exclamation "The water in the shower does not drain!!!", you should postpone all meetings and act immediately. Because women hate nothing more when a bathroom no longer meets the requirements of their personal beauty routine. Postponing according to old fathers' custom "I'll do it on the weekend honey" means a great potential for conflict for the next few days. A chemical pipe cleaner has little effect. After a short time, the problem is back. In addition, long women's hair is particularly stubborn and tends to miraculously knot together in the drain pipe. To remove this pipe tangle, I have now acquired a cleaning spiral from KWB. Even men with two left hands can operate the part. Open the shower drain, put in the spiral, crank it and the problem is solved. The water flows out again. I especially recommend the cleaning spiral to fathers who, in addition to a long-haired wife, have a long-haired daughter or a son who has just fallen for a TiKTok mane trend. My last, but important advice to my gender comrades is, don't start a discussion about long hair in the bathroom and that pipe cleaning is somehow disgusting, that women don't want to hear. Just do your job and continue to admire their hairstyles.
Vanessa: My purchase of the month is the Wishbone Chair
The Wishbone Chair, also known as CH24 Chair or Y Chair, is a chair designed by Hans Wegner for Carl Hansen & Søn in 1949. The chair has a bentwood armrest and a seat made of paper cord rope in a braided wrap-around pattern. It gets its name from the Y or wishbone shaped backrest. This designer piece has been on my wish list for a long time and I treated myself to it this year. It will complement our living room perfectly with its timelessness.
Liesa: My purchase of the month is the Domino teapot

The teapot not only has a particularly attractive appearance, but also shine with its functional shape: With the Spring teapot with the tea is prepared exactly portioned. Thoughtful details such as the permanent filter integrated as a metal spiral, the elegant shapes and the production of high-quality borosilicate glass by hand, are an expression of the high quality understanding in the house of Dimono. The timeless teapot is the perfect companion in winter.
Joana: My purchase of the month are Hyaluronic Self Tan Drops Face from Venice.
In the dark season, you rarely get to see the sun, especially in Hamburg. I am by nature a rather pale skin type and especially in winter that can lead to some people even ask if you are sick. I have now discovered the Hyaluronic Self Tan Drops from Venice and am thrilled. You mix a few of the drops - depending on the intensity - in your day cream and get a wonderfully natural and even tan. I have extremely sensitive and dry skin and tolerate the drops super. Especially the hyaluron content in the drops is a real benefit, because the skin needs additional moisture in the winter months anyway. You can order the drops online for €39.99 at https://www.venice.de/produkt/hyaluronic-self-tan-drops-face/. The best thing: Venice has a wide range of different products, so there is something for everyone?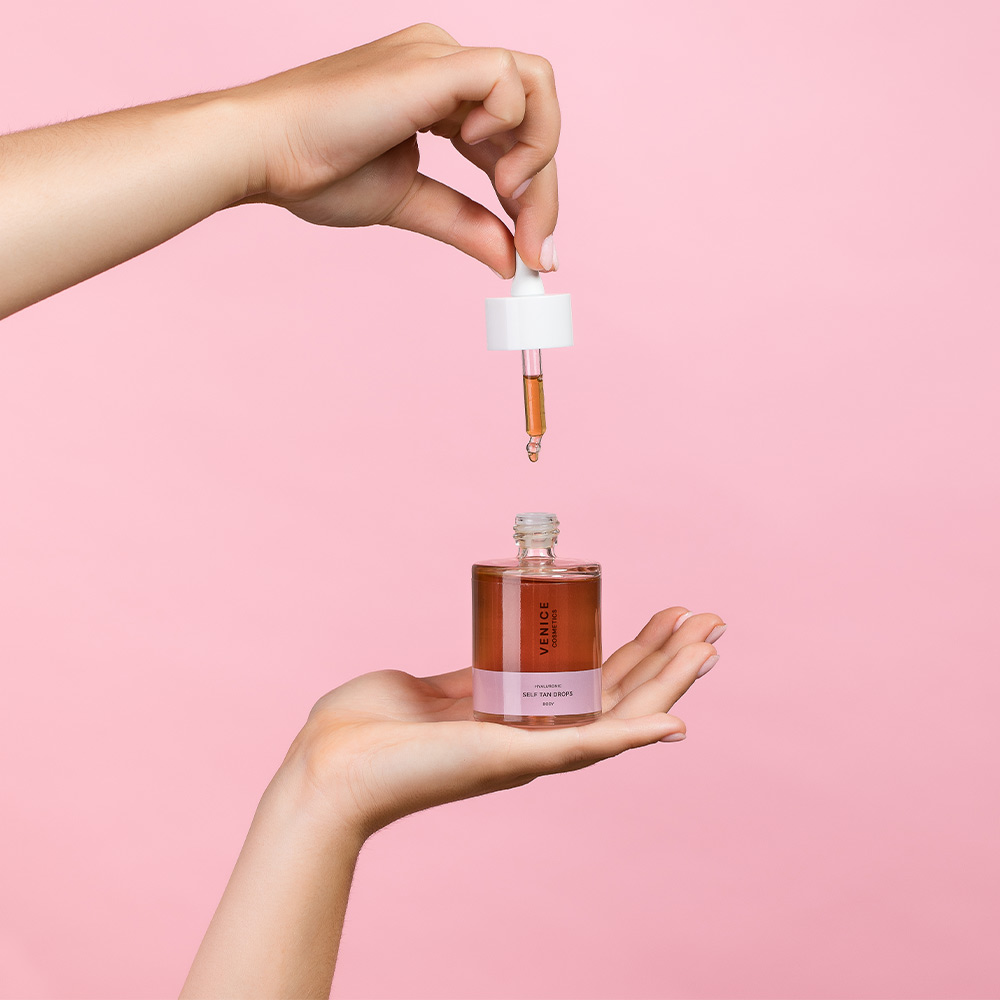 ---
Want more shopping tips? Next month it continues; Let's see what has landed in our shopping cart then!
*All articles are private recommendations and are not related to any cooperation.